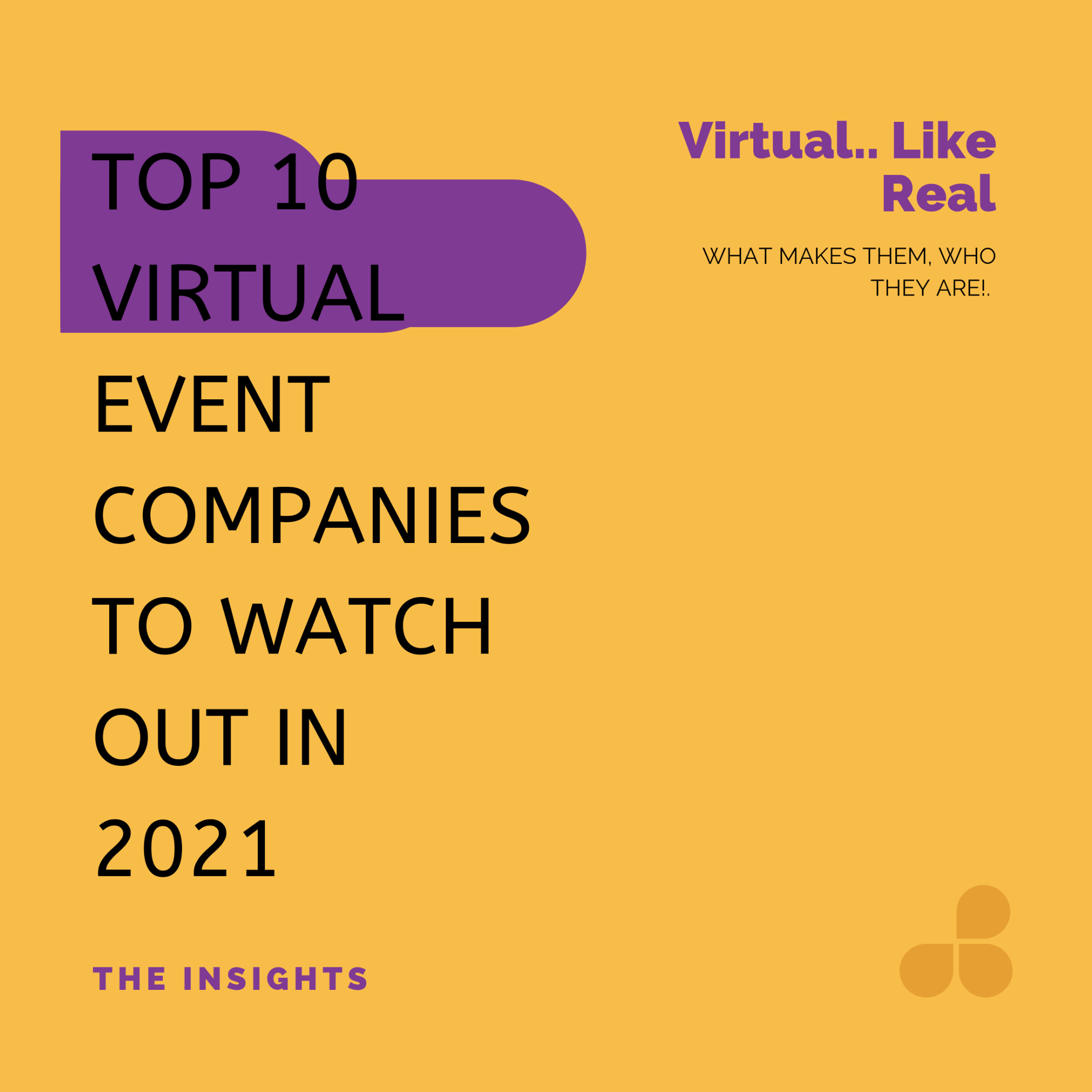 The virtual events industry has been observing soaring importance currently, with new players entering the game every day. Virtual events are essentially just like many other kinds of meetings, conferences, trade shows or exhibitions etc. required for businesses and markets; except they're held online.
In times when in-person events are just not feasible and handling professional meetings needed an alternative, the new age event hosting platforms quickly evolved themselves to provide the same substitute experience at the safety of our homes. Especially, in a year like 2020, when the entire modus operandi of making work happen turned on its head.
Seeing the scope of innovation in this market, newer event hosting platforms are leaving no stone unturned in terms of the features as well, allowing businesses and attendees to collaborate, exchange information, and handle big projects seamlessly with the help of the latest technology.
You may be planning to set up a press conference, train the fresher employees, discuss a marketing plan or host an online educational session - a virtual event program can help you interact with your respective audience with ease.
That being said, the wide array of the virtual avenues available to you can often lead to great confusion, as different features might appeal to different users.
So to help you in zeroing down on what solution works best for you, we have created a concise list of factors you need to consider before looking at our exhaustive listicle of the top virtual event hosting platforms out there, with bonus content fresh off the company HQs!
Your ideal virtual event hosting destination must include the following:
A landing page dedicated to the event, along with online registration forms.
Provision of scalability in size, quality, and ways to conduct the event.
Allow networking and interaction features with the attendees like comments, Q&A, polling, etc.
Integrated built-in webcasting options for the hosts to be able to share content.
Technical assistance should be available for the host and the guests, before and while the event is going on.
Contains features that assist you along with the entire procedure, right from the registrations to the marketing, feedback provision, as well as analytics.
Provides cyber security and takes care of protecting the personal information of the virtual guests.
Here are our top ten platforms that deliver the best solutions to event organizers on their virtual platforms -
1) SpotMe
SpotMe is quite a versatile all-in-one virtual event platform for enterprises seeking to create engaging online events. It is the best fit for a wide range of virtual events - focusing on helping brands create their interacting community. It delivers branded enterprise solutions to 250+ global brands across the web, iOS, and Android, with a breezy no-code building platform, along with robust support services.
It contains all the interactive and networking features much like the others in the list - but the main features that set it apart from the lot - are the abilities to curate a branded experience on web and app, a social media like home feed, and the choice of hyper-personalized experiences to each attendee.
You can even customize the features by availing them through the marketplace of extensions to enhance the experience to your taste. Even from a security perspective, SpotMe gives you a choice of global data storage, secure live streaming, and other compliances, so that you don't have to fatten your bill with more safety add-ons.
Here's some scoop about the history, future scopes, and what they have in the pipeline for us, straight from the company itself-
The story so far
In the year 2000, Pierre Metrailler set the foundations for SpotMe Lausanne, Switzerland. Today, the company is joined by more than 140 staff worldwide. With its headquarters in Switzerland, they have spread their reach globally, with offices in Europe, North America, and Asia-Pacific.
Up till now, SpotMe has served more than 5 million users worldwide through its virtual services. Over 200 organizations and 75 Fortune 500 Companies count on SpotMe to help create change in the transformative virtual events realm, by driving consistent engagement with employees, customers, and their partners.
When SpotMe was founded it had a bold vision: to develop a handheld device of its own.The year was 2001, and the Swiss firm had just spun out of the Swiss Federal Institute of technology at the time. The team wanted to develop an innovative solution to facilitate face-to-face interactions; today this focus has channeled to deliver the best virtual event experience for its clients.
How well has the virtual meet/event concept emerged in today's time?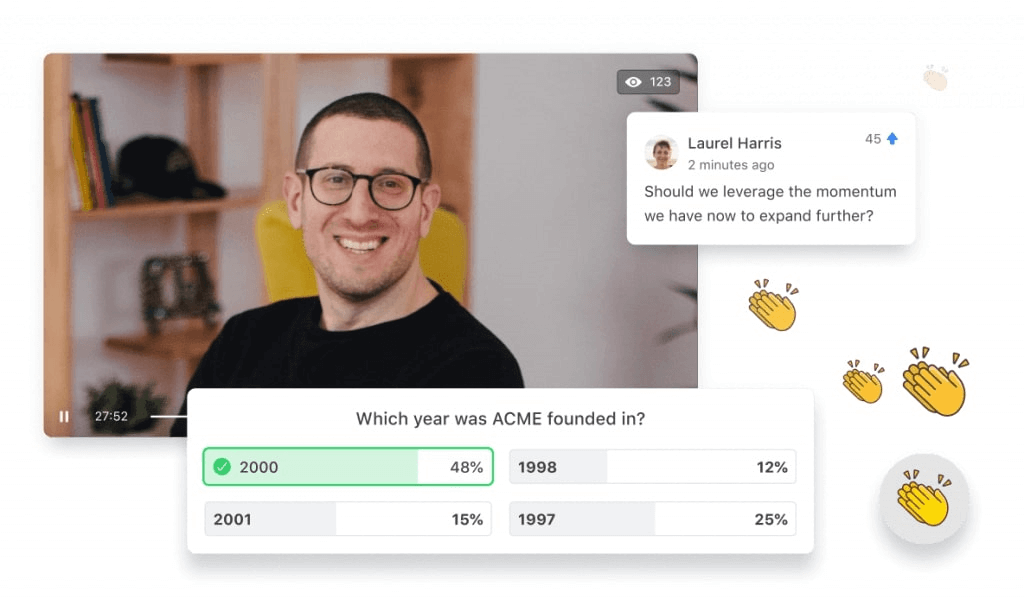 Virtual events, digital experiences, and hosting them are here to stay, even past the pandemic era. SpotMe makes hosting virtual events easier for event and meeting planners by providing the following:
Pre-configured virtual event templates - they offer all the best practices and are an online event that just needs you to add your branding and you are good to go.
Customization of icons, navigation bar, and your event registration page. You can apply your branding and add an event banner to the SpotMe app menu.
Inclusion of virtual event registration – now you can register your online attendees directly from within SpotMe and use your branding accordingly.
Improvement of the participant experience – you can use several engagement tools to inspire interaction among the attendees.
Choosing the right live streaming solution was never easier – you can embed your preferred live streaming solution or even use ours, whatever you prefer
Take on the current virtual events scenario
The whole COVID-19 crisis has been unpredictable since the beginning, but the general thought is that going back to "normal times" might take a while. This means that hosting large in-person events would be either replaced by hybrid events, or virtual events completely.
What makes them different from other platforms of the virtual event world?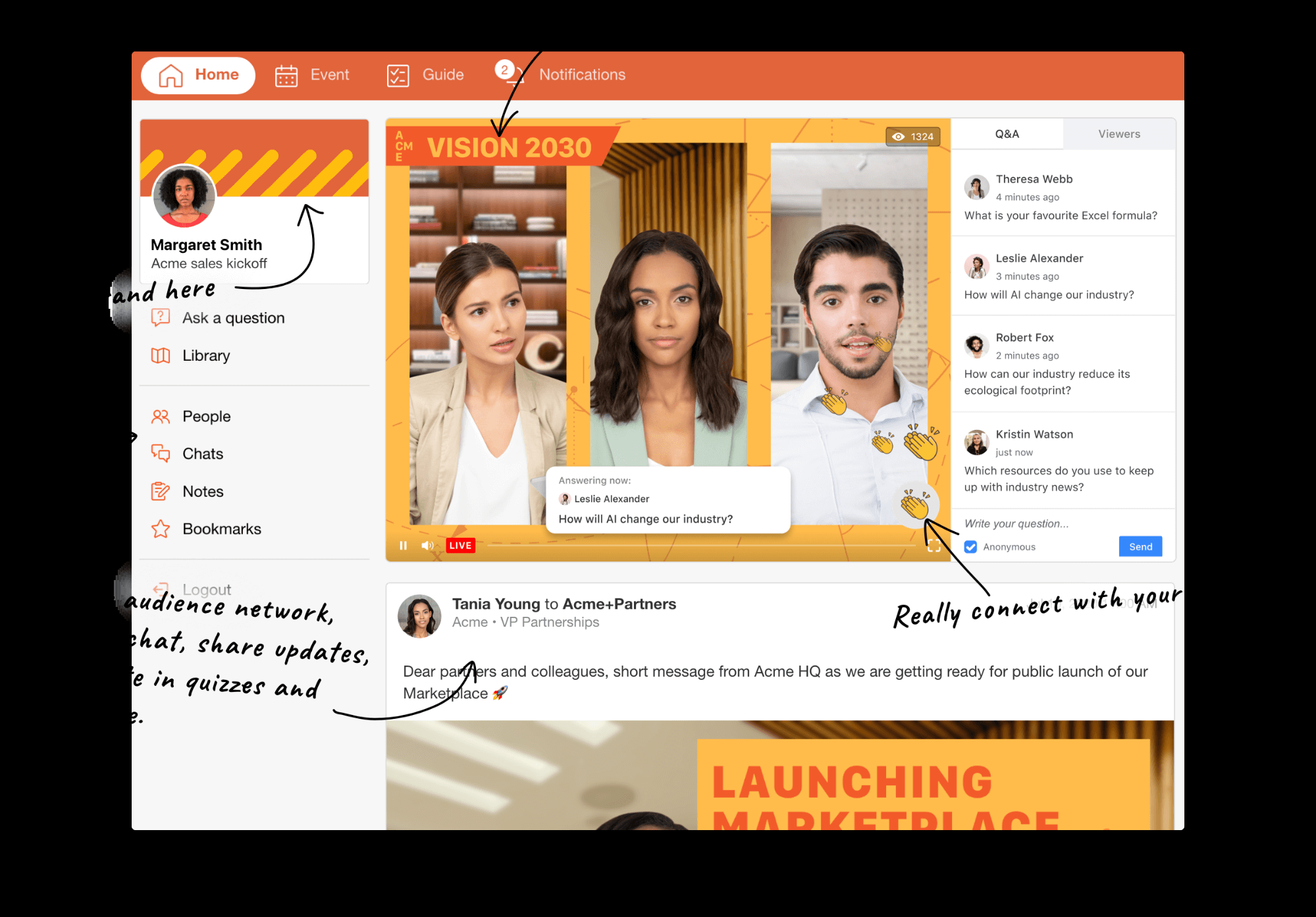 SpotMe has always strived to be a virtual event platform that brings events to your audience that are engaging, meaningful, and interactive.
It is both web and mobile-friendly, has an intuitive interface and lots of personalized tools. It supports instant multilingual translation, making it accessible to virtual audiences across the globe, hence optimizing efficiency for all the users. The team support response to any user queries is also remarkable and friendly.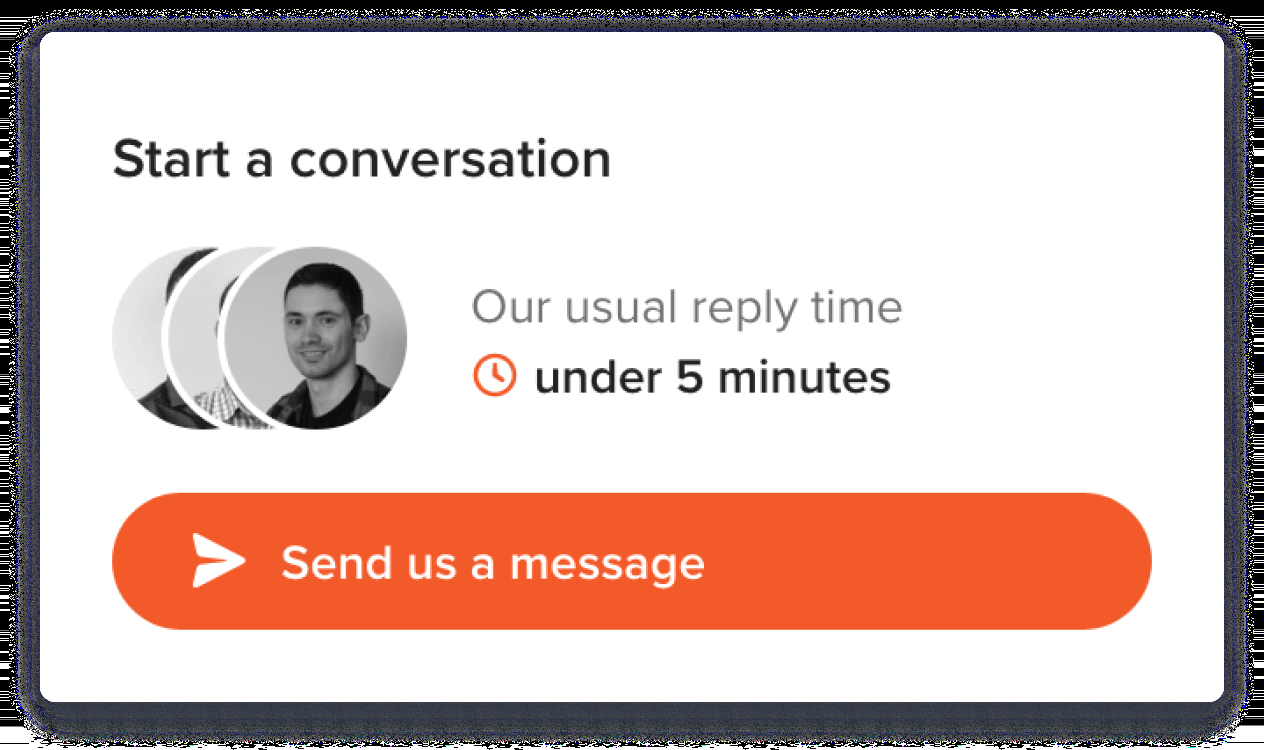 Some Notable Achievements so far -
Consistently since 2017, SpotMe has been named a Leader for Event Apps by G2 Crowd, a trusted software user review platform.
SpotMe was recognized by Forrester as one of 38 B2B online event technologies in the Forrester Q3 2020 Now Tech B2B Online Event Technologies report.
SpotMe has been selected as a Red Herring's Top 100 Europe Winner. This annual award recognizes the most promising private technology ventures from the European business region.
SpotMe has been named a BI WORLDWIDE Inspirational Partner for 2 years in a row. It has also been named a Leader in G2 Crowd's Summer Grid for Mobile Event Apps.
The affordability of the platform -
The good thing is that SpotMe offers a variety of packages intending to adapt to the client's needs and budgets. SpotMe offers Anywhere packages, which include Business, Advance, Ultimate, and Enterprise solutions, as well as VX packages, which include Essential, Pro, and Premium solutions. The pricing starts at $4,800+.
Notable names and numbers in the journey
Apart from its wide network of 500 Million users worldwide, SpotMe takes great pride in serving a bright roster of Fortune 500 brands like L'oreal, SAP, Pfizer, Johnson & Johnson, Daimler, and similar others.
How do you ensure that your user gets an enhanced experience overall?
SpotMe continually aims at ensuring the enhanced experience overall by providing virtual event must-haves - such as virtual event activity feed, engagement tools, live streaming, breakout rooms, notifications, and event templates, so that not even for a second does user experience at the virtual event get compromised. Every user gets in-depth analytics to help understand the flow of each event.
The company's vision -
The team at SpotMe is dedicated to helping clients solve real-world business problems and helping online audiences experience meaningful connections with brands.
Companies SAP, Pfizer, L'Oréal and KPMG use SpotMe's virtual event platform and hybrid event apps to create a virtual event experience their audience loves. They say," This faith that patrons have in us, motivates us to keep growing and exceeding their expectations."
Goals for the upcoming year -
"We believe in connecting events to business goals and outcomes, through the power of exceptional experiences," says Pierre Metrailler, CEO of SpotMe. "More than logistics and analytics, personalized experiences allow events to become part of the greater story of the brand."
"Virtual and digital experiences truly have the power to reach people across the globe. We have some very exciting things planned for our virtual event solution" said Josip Lisec, Head of Product at SpotMe. "The focus is on helping clients do even more, with less, and driving real business outcomes."
Customer Review -
"Hosting a multi-lingual webcast with SpotMe VX and INTERPREFY"
Overall: SpotMe gives great UX thanks to their project manager and other service add-ons to improve the experience for the audience as well as the speaker
Pros: The possibility to integrate INTERPREFY with SpotMe helped our company to allow a multi-lingual live webcast, which worked seamlessly for the audience.
Cons: If there wasn't the provision of a project manager, the complexity of the BackStage customization would have been overwhelming. Since this feature is rather difficult to grasp.
2) Communique
Communique Conferencing, Inc. is another trailblazer in the virtual event platforms, catering to mid to large size organizations globally.
It is an enterprise-grade, cloud-based, virtual conference platform - which helps organizations conduct virtual trade shows with all the conventional physical event attributes like exhibit halls, booths, presentations & networking with a highly customizable 3D virtual environment. This helps serve a wide array of events on a single platform, remotely.
The foundation for their success lies in their mission to be the 'most customer and employee-oriented business' in the market that they serve, with rock-solid conferencing technology and highly-skilled support staff, for their clients to have a seamless virtual event experience.
Here's the company's story, future goals, and what they have in the pipeline for us, straight from the company itself-
The story so far -
Communique Conferencing, Inc. was founded in Bethesda, MD, USA, in 2001; primarily focusing on offering audio and webinar solutions.
Following that, in 2009, the company added a virtual conference platform offering to further support clients' needs to host virtual events. Communique has staff across the world, located in North America, Europe, and Asia, and has hosted over 614,768 Virtual Events and Webinars with 237,213,384 attendees and counting.
How well has the virtual meet/event concept emerged in today's time?
Full-scale virtual events have been around for over a decade now. However, in 2020 COVID-19 changed the events landscape completely. Just about every physical event organizer globally was forced to look for ways to transition their in-person events to all-digital experiences.
Event organizers took advantage of Communique Conferencing's virtual conference platform which grew by 1,000% last year.
The company incorporated the video chat this year to support attendees' desire to connect with each other and booth representatives via live video.
Company's take on the current virtual events scenario
Hosting virtual or hybrid events offers tremendous benefits for event organizers, speakers, attendees, and sponsors. Before the pandemic, the adoption of virtual events was already on a significant rise, and now that many more organizations are seeing the benefits of virtual, there will be no going back in the use of virtual event technology for event production or augmentation.
Going forward hybrid events will be exceedingly popular. The number of people able and willing to attend the initial live events that can take place will be limited for a variety of reasons. Leveraging hybrid event strategies will allow event organizers to maintain their numbers even if their live audience is small.
Hybrid events also allow planners to continue to expand their reach even once larger gatherings are fair game. The reality is that some people have never been able to access live events due to logistical or financial limitations and incorporating a virtual component to physical events ensures access to everyone interested in attending, regardless of whether they're able to travel.
This allows for much more inclusivity and diversity at the event, which in turn can offer the potential for more interesting exchanges, a larger overall audience, and a higher ROI.
What makes them different from other platforms of the virtual event world?
When asked this question, the company explained aptly that, "At the brochure level, most of the virtual event platforms tout the same basic features. The difference in virtual event providers gets down to things beyond the brochure and a 60-minute demo".
To support their argument, they explained how Communique is different in three areas -
(a) Communique has invested considerably more in hosting infrastructure vs. our competitors. The platform is hosted via AWS global infrastructure with significant investment in servers and bandwidth and with built-in clusters in various global regions.
This translates to the ability to scale to a large number of attendees (100,000 concurrent attendees), literally no downtime (99.9% availability), no latency (for example when an attendee watches a video from various countries)
The platform is also ISO 27001 certified for data security to ensure that the client's attendee personal information is secure, and clients are covered for legal compliance
(b) unique features for hosting engaging presentations as well as networking and gamification.
(c) Experienced project management team to help clients plan, build and execute successful virtual events.
Few Notable Achievements so far -
Communique Conferencing was named one of the Top Mid-Sized B2B Online Event Providers by Forrester Research and Most Popular Virtual Event Software by SoftwareSuggest.
Awards: A+ Better Business Bureau rating, 4.9 out of 5 stars ShopperApproved rating from 126 customers

The affordability of the platform -
Communique Conferencing's virtual event platform is geared towards mid-to-large sized organizations, that demand reliable hosting, data security, first class customer service.
Notable names and numbers in the journey -
Apart from the robust make of the software, it has also prioritized more inclusivity and features for every user around the world and wishes to consistently do so in the future with newer and upgraded features.

Goals for the upcoming year -
It provides you to have up to 100 live video panelists that can share their webcam as well as interact with the audience. You can also conduct polling, check attendance, engagement and Q&A during the event. Broadcasting options for turning it into a Facebook Live as well as YouTube integrations are available, as well as promoting guests to hosts when needed too. Zoom has also provided very secure learning environments in the latest pandemic scenario. The platform has helped preventing disruptions required by a controlled online classroom.

In Zoom you have two ways to conduct your virtual event -
Interactive online event with open microphones
Webinar type event where the attendees need to raise their hand to speak.
When the audience is rather large, Zoom has a breakout room functionality to ease the management a little. This feature assigns breakout rooms to people by cutting the full audience into smaller groups.
Review -
"Awesome way to host webinars"
Overall: It is a great software that is very versatile for normal work and personal events, without any issues.
Pros: Easy to use for webinars and other meetings. Very simple interface that never lags.
Cons: Sometimes connecting can be difficult for some visitors.
4) Accelevents
Accelevents is touted as a powerful yet affordable all-in-one online events hosting platform, known for its simple usage, loaded features, and 24/7 live support. It also provides robust virtual event hosting features such as ticketing/gamification, live chat & polling, virtual exhibitor booths, A. I powered networking, gamification, and more.
Apart from such great utilities, it comes with the regular functionalities of live streaming and break-out sessions too, with the option of integrating an external streaming platform too. You could be expecting an audience of 100 or 10,000+, Accelevents will provide your attendees with an unforgettable experience regardless.
Their virtual lobby allows attendees to access a newsfeed bulletin, a dynamic agenda, or even shop on your eCommerce shops. With a special focus to bring value to event sponsorship, they've developed a suite of ad placements and interactive tools to up the ante for various sponsorship packages.
The Story so far -
Accelevents is an all-in-one virtual & hybrid events platform that empowers event organizers and marketing professionals to create authentic human connections and drive sustainable growth.
As a leading event technology platform, Accelevents is redefining the way brands connect with their audiences with a user-friendly yet robust set of customizable and interactive features. Attendees can watch keynote talks, attend multiple breakout sessions, engage within workshops, interact with virtual exhibitors, network with groups or individuals, answer polls, download materials, and participate in live chats.
With a focus on growth acceleration, the platform is designed to capture actionable analytics throughout the event ecosystem that translate into measurable marketing and sales performance strategies.
Accelevents supports multi-faceted online, hybrid, and in-person conferences, summits, fundraisers, educational seminars, team building events, career fairs, community networking, festivals, and more.
Accelevents' legacy is founded upon our commitment to philanthropy. In preparation for an 850-person charity event for the Dana-Farber Cancer Institute in Boston back in 2015, CEO & Founder Jon Kazarian recognized many limitations with existing event technology and fundraising platforms.
In response to those limitations, he embarked on a mission to revolutionize the end-to-end user journey for fundraisers by creating a streamlined registration and fundraising experience for both attendees and hosts.
Since 2015, the platform has continuously evolved to meet the emerging requirements of event organizers and corporate marketers as virtual gatherings began to gain momentum and industry-wide acceptance. While Accelevents currently serves all types of institutions, from Fortune 500 companies to academic organizations to associations, we take great pride in the fact that our origin was derived from philanthropy.
Accelevents explains how well has the virtual meet/event concept emerged in today's time -
While the Accelevents platform got its start in the mobile fundraising sphere, we have worked diligently to build an intuitive and robust all-in-one events platform. From ticketing and registration, to live streaming in sessions, to analyzing data from your event, Accelevents meets and exceeds the needs of event professionals of every kind.
Why Accelevents thinks the virtual meet or events happening today are here to stay -
Virtual events are definitely here to stay. Even as events begin to take place in-person again, event professionals have realized the vast advantages of hosting a virtual event option - reduced costs, better accessibility for attendees, in-depth event analytics, ability to revisit and download event content, etc.
What makes Accelevents different from other platforms of the virtual event world -
A few things in particular set Accelevents apart from other virtual and hybrid event platforms - multiple ways for attendees to authentically network, customizable and interactive Expo Hall feature with exhibitor booths, comprehensive in-depth analytics dashboard, integrated built-in streaming studio, and 24/7 live customer support with our global customer success team.
Here are some of the best accolades and reviews received by this platform -
G2 awards:

Easiest Admin - Summer 2021

Fastest Implementation, Small Business - Summer 2021

Momentum Leader - Summer 2021
SourceForge award:

Top Performer - Summer 2021
"After researching many different virtual event platforms, what stood out to me the most was Accelevents Studio. It was important to us to make it feel like you had arrived at a festival rather than a zoom meeting. With the attendee registration, ability to add exhibitors, networking features, and the people tools-- all in one platform gave us the features we were expecting. The ease of use to build the site was a significant plus, and having knowledgeable tech support 24/7. Love direct upload- pre-recorded sessions! So many great features and very well thought out platform." - Maritza C., San Antonio Book Festival.
"The features of the platform are easy to set up, creative in format, and allows ease of use by attendees. Customer service is excellent! As a first-time conference planner, nervous and with a million questions, the reps helped me through it all. They were thorough, understanding, knowledgeable, and patient! (much appreciated!)." - Lori T., Brain Injury Alliance of Northern Kentucky.
Affordability -
Accelevents offers flexible pricing starting at $500/event.
Unique Solutions -
Built-in customizable ticketing and registration (no need for 3rd party integrations although they are available), 1:1 speed-style networking, gamification, customizable and interactive Expo Hall feature, exhibitor booths with 1:1 meeting capability, Workshops and Breakout Sessions, comprehensive in-depth analytics dashboard, 24/7 live customer support.
Major Highlights -
April 2021 - Accelevents reaches 1.25 million event registrants.

May 2021 - Accelevents reaches 50,000 exhibitors.

June 2021 - Accelevents has helped generate 724,930 leads through the Expo functionality.

June 2021 - Accelevents reaches over 100 employees.
How they ensure an enhanced user experience overall -
Accelevents has an amazing team that is always thinking ahead, anticipating users' needs. We are also one of the only, if not the only, event platforms that offers 24/7 live customer support to ensure users receive the best overall experience. They take customer feedback very seriously and are constantly releasing new platform updates and features.
A little more about Accelevents -
The Accelevents team members are thinkers, creators, and doers— all obsessed with customer service and making events a better place to learn, to unite, to educate, to entertain, and to inspire. Theyunderstand the complexities of producing successful events and the challenges that come with executing them. Consequently, the platform is specifically designed to minimize technology hurdles and to elevate the event experience for both hosts and attendees.
Goals 2021 -
The primary goals for 2021 focus around continued value enhancement for every stakeholder within the event ecosystem. Specifically concentrating on the following core goals:
Introducing a mobile app that will foster a seamless experience between virtual and hybrid experiences

Optimizing the attendee experience by creating an inquisitive user journey from registration to post-event communication

Investing in analytics tools in order to provide enhanced opportunities for event organizers and exhibitors to generate actionable insights and growth opportunities.
Overall: The pricing was the most lucrative aspect of the software, as you don't have to pay annually or monthly, you just pay as much as you use it. Impressive features that help you conduct everything in one place and allows participants the opportunity to have out of session connection points.
Pros: The support team was very responsive throughout. They would respond to the queries in just a couple of minutes. Very useful for conference needs, with a huge bank of helpful tips and topics.
Cons: The interactive full round platform can take some time to get used to if you are coming to this from a platform like Zoom.
5) Airmeet

An Indian breakthrough in the virtual events market, AirMeet has been loved by many for its great networking features to conduct immersive events online. Created to work well for small meetups & large webinars alike, it lets you scale as you grow.
It ensures that the guests have to do the bare minimum for a great experience, on all browsers and devices without any software installations. AirMeet is known for its reliable handling of publishing events, managing speakers, conducting payments, partnerships, and fluid networking as you host events like a pro.
All this has been well packaged with great privacy and full control over your participants & their interactions, giving you security & scalability at its very core.
Review -
"Collaborative Virtual Event Organizer"
Overall: We enjoy hosting our events on an online cloud platform using Airmeet. Its user support is brilliant and makes it easy to conduct online events on a medium scale.
Pros: Airmeet is very fun to use for organizing events for mid-scale enterprises. Very interactive modes with chat integrations and an overall collaborative experience.
Cons: There are some compatibility issues with mobile devices. Hoping for this to get fixed in the future.
6) ON24
ON24 is a webinar platform that is widely in use by companies all around the world, it provides efficient live experiences that businesses need to create better engagement, deliver data, and drive revenues.
This platform provides the attendees every tool to help network with the inclusion of brilliant gamification capabilities. The virtual event platform itself is configurable by a simple WYSIWYG editor. This should be the platform of your choice as long as your live audience doesn't exceed the strength of 5000 people.
It is already considered to be one of the best webinar solutions out there, but they're working on taking it even a notch higher with more features and support such as multiple presenters, more immersive UX, and a release of a mobile app.
"Easy to host, simple to attend"
Overall: ON24 is a very hands-on platform that lets me engage and connect with clients through webinars. It also provides insightful analytics and user management stats which are helpful for my business.
Pros: ON24 gives plenty of customizations for admin and moderator roles. Their dashboard is very useful and easy to navigate. For the guests too, it is very easy to join and use the platform.
Cons: Apart from the occasional video delay between the host and the client, the tool is great.
7) Adobe Connect

Staying true to the brand, Adobe created a very high quality virtual hosting solution with Adobe Connect, with a software suite designed to be highly flexible for various needs and allowing easy downloads.
The quality of the conversations on the call, as well as the screen sharing and recording of the webinars is impeccable. However, owing to the fact that it is software leaning on the heavier side, it can take some time to load and require sufficient bandwidth to properly function. Apart from those aspects, it will provide you a reliable place to host your events with great features.
Review -
Overall: The tool is very useful to me as a tutor, with options to relay and provide information.
Pros: The software allows the uploading of files on the server for the group to download, which was very helpful for even business needs. The boxes in the presentation are organized as 'pods', which are customizable and they let you organize and present certain information.
Cons: Adobe Connect requires a very strong internet connection, which if not met can lead to lags and glitches.
8) INXPO (now a part of Intrado)
Here is a virtual event hosting platform made for businesses that are planning to come up with really important events and want their impact to last. INXPO is a video platform that is the choice of great enterprises, as it is built on a secure, robust, and scalable foundation and has powered many events with millions of guests.
It is built for marketing, corporate communications, sales training, and other such corporate events, and its technology delivers an engaging visual experience for each of these occasions.
Another great feature of theirs is that it lets the event organizers not only meet their global audience but also keep their content back after the event is over and have access to it for as long as they wish. Additionally, their real-time metrics functionality lets you track new leads and keep track of the attendees' participation with the use of analytics.
Review -
"Most evolved and feature-loaded platform for webinars, training, online events"
Overall: INXPO makes handling large audiences in video broadcasting easy and also gives you many engagement features to keep the attendees interested. Great experience, highly recommended for large scale webinars.
Pros: Convenient usage with the admin console in creating presentations of all kinds, even to include surveys, polls, handouts, group chats, and other ways to draw attention to things.
Cons: It does have some expenses if you want more add-ons, but better than the free options in the market.
9) FLOOR
Formerly known as oDASH, FLOOR is a virtual space that lets you build, grow, and manage your community. This one is a complete virtual event suite, with high-quality security systems and access permissions; FLOOR lets you manage, market & monetize your virtual event efficiently.
The great usability of this software is that it lets you have the online event of your choice, either standalone, in hybrid with some kind of physical event; from summits, meetups, and, awards to Expos, live roadshows, and training events.
Designed to let you create, manage and host your entire event from a single space - they use their technology to bring in the beauty of physical events instead of replacing it. For this, they provide dynamic booths, waiting areas, in-depth analytics, tickets setup, et al.
Review -
"A great software with even better customer support"
Overall: The entire experience was very enjoyable and everyone present left behind great feedback.
Pros: Mimicking a physical event in the best way, allows the attendees to freely move around between the mainstage or panel sessions to the lobby and lounge to network as well.
Cons: The limitation on downloading videos after recording immediately.
10) BigMarker

BigMarker is yet another great option if you're considering a virtual webinar solution, it lets you host an incredibly interactive session for up to 1000 people with ease. What's more is that it lets you share the recording of your webinar, as well as stream it on social media platforms.
But the feature that truly stands out in the platform is their combination of robust video technology and stellar marketing features, where you can create unique branded virtual event experiences. You can engage the visitors with the live chat feature, Q&As, polls, and much more; and simultaneously reach out to the sponsors and key stakeholders while handling all your business goals too.
With great SEO tie-ups like Mailchimp, social sharing agencies like HubSpot, and more; you can create great quality leads that have higher chances of converting due to the software's innovative design.
Review-
"A very robust webinar platform that has everything you need"
Overall: BigMarker is a brilliant webinar platform. It allows us to establish and promote our products directly to client screens, with zero hassles. Overall, we had a positive experience with BigMarker and wish to keep using it for all our webinar purposes.
Pros: Very handy Mailchimp, ActiveCampaign, and HubSpot integrations available, also it's a Web-based platform so no installation is required.
Cons: There is so much to discover to get the hang of things and start using them. The support team and documents help though.
The Sum Up
All in all, virtual events are gaining increasing popularity, now more than ever - and they are definitely going to the go-to solution for hosting all kinds of events for businesses in the future. Even the post-pandemic period seems to be favoring the idea that the high-quality virtual events hosting platforms available, can be a great substitute to many large scale physical programs going forward.
That said, when you are planning to host your very own virtual event, you will need to focus on what outcomes you expect from these occasions. Once you plan it all out, you'll now know what to look for in the ideal platform for your needs, later you could also check out if these stellar tools mentioned above - might make the cut in helping you achieve your business goals!